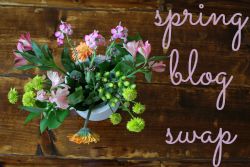 Every year, Katie over at
Tomorrow With A Smile
hosts a spring blog swap. This was my third year participating, and I like to think that each year I get a little better at finding gifts for a complete stranger. This time I was paired up with another Katie from the blog
Katers Potaters
. We had a LOT in common. It was so much fun shopping for her, especially because we have a shared love of owls.
The package she sent to me arrived last night, and right away I knew I was going to love it. I am not the best with the whole presentation thing, but Katie had it nailed.
I was so anxious to unpack everything, and boy, did Katie get me! I don't even think I mentioned my love of sour candy to her, so bonus points for having excellent Spidey senses. My husband lit up when he saw the John Candy DVD compilation, and the cute little "Live Laugh Love" sign looks adorable in my guest room.
I can't wait to try out the Ulta nail polish. I love the colors, and I have been curious about this brand for a while. Also, how cute are the little owl figurine and composition book?
I am a Bath and Body Works junkie, and I am going to get a lot of use out of the chevron striped mug.
I love colorful little notepads, and these all have owls on them.
She even included treats for the pups.
I really, really loved my goodies. It was like Christmas in March. Thank you so much, Katie!! It is so much fun to receive a package from a total stranger who picks out fun things for you just based on your likes, without having met you in person. Hmmm...someone needs to create a summer swap...and maybe one for fall too:)